Vitamin E is an important biological antioxidant which maintains normal neuromuscular function in horses. This vitamin is not synthesized by horses; therefore, it is an essential dietary nutrient. It is the primary lipid-soluble antioxidant that maintains cell membrane integrity and enhances humoral- and cell-mediated immunity.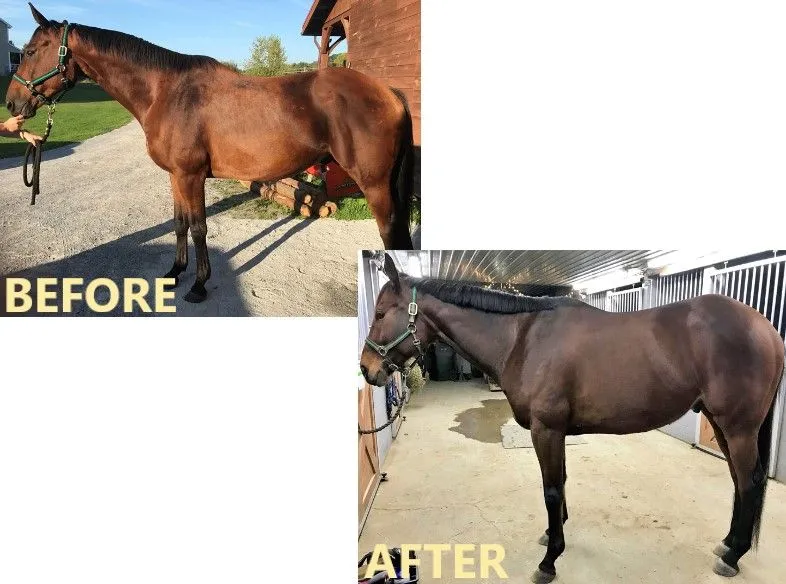 VITAMIN E DEFICIENCY
Vitamin E deficiencies are more common in horses with limited or no access to lush pasture. Due to shortened grazing season in our northern practice area, even those horses with access to unlimited pasture can become deficient in Vitamin E. Low Vitamin E levels can often results in poor muscle development, muscle weakness, or a more severe neurologic condition called Equine Motor Neuron Disease (EMND). Because our horses are intended to be athletes, we often monitor serum Vitamin E levels and supplement where necessary to maintain and improve performance levels.
DOSING VITAMIN E
The recommended daily amount of natural Vitamin E consumed by your horse should be 1,000 international units (IU's). If your horse is diagnosed as deficient based on a blood sample, we will often recommend very high daily levels, up to 10,000IU daily to restore normal levels quickly. It often takes weeks to months after initiating supplementation to bring a deficient horse's vitamin E levels back into the normal range. These high levels of Vitamin E are safe to supplement, but choosing the right supplement is also important.
CHOOSING A SUPPLEMENT
Most Vitamin E supplements consist of natural or synthetic forms of alpha-tocopherol because it is the most biologically available and well researched isoform of Vitamin E. Not all sources of Vitamin E are equally utilized by horses. When selecting a Vitamin E supplement for your horse, it is most important to select a product containing NATURAL Vitamin E, not synthetic or Vitamin E complex. Look at the ingredient label; the chemical name for natural Vitamin E is d-alpha-tocopheryl or d-alpha-tocopherol, which is the most readily absorbed by horses. Synthetic Vitamin E has the letters 'dl' in front of the chemical name dl-alpha-tocopheryl or dl-alpha-tocopherol, and higher amounts are needed to supplement.
| | |
| --- | --- |
| Vitamin E Chemical Name | Synthetic vs Natural |
| d-alpha-tocopheryl-acetate | NATURAL |
| d-alpha-tocopherol | NATURAL |
| d-alpha-tocopheryl acid succinate | NATURAL |
| dl-alpha-tocopheryl acetate | synthetic |
| dl-alpha-tocopherol | synthetic |
| dl-alpha-tocopheryl acid succinate | synthetic |

VLAC-EH offers two forms of natural Vitamin E; water soluble oil and powder. Both are well tolerated and have shown significant improvement in Vitamin E levels in horses in our area. Please contact VLAC-EH if you have further questions regarding Vitamin E deficiencies and supplementation.