What to Expect When Your Mare is Expecting:
Top 10 Ways to be Prepared
By Dr. Toby Pinn, DVM, DACVIM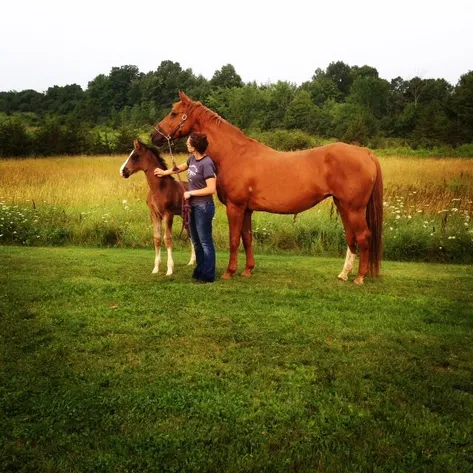 1. Your mare will require a series of vaccines prior to giving birth to her foal Vaccination at months 5, 7 and 9 of gestation to prevent abortion from Equine Herpes Virus Pre-foaling spring vaccine boosters should be given 1 month prior to birth. These vaccines boost the antibody levels in the mare's first milk (colostrum), which strengthens the foal's naïve immune system.

2. Prepare a warm, dry and clean foaling stall that is bedded deeply in straw. Allow your mare to become familiar with this stall 4-6 weeks prior to foaling.

3. Create a monitoring plan for your foal's birth. We recommend the birth be quietly observed in case any problems arise. Monitoring options might include a webcam or frequent night checks.

4. Know the stages of equine labor, and when to call the vet.

Stage 1 – This is the preparatory stage of labor which can last between 30 minutes and 4 hours. During this stage uterine contractions begin and the mare may begin to show signs of discomfort (flank watching, tail swishing, frequent urination, sweating, laying down and getting up frequently).
Stage 2 – This stage begins when the mare's water breaks and the foal is expelled. This stage should last no more than 30 minutes and concludes with the birth of the foal. If the mare is not making steady progress delivering her foal over a 30 minute period, call your vet.
Stage 3 – This stage begins after the foal is born and involves passing of the placenta (the membranes lining the uterus). This should occur within 3 hours. If the placenta is not passed within 3 hours, it is considered retained and can cause severe uterine infection (metritis). Call the vet if the placenta is not passed within 3 hours of the foal's birth.

5. Know how to monitor your foal during its first hours of life.
The foal should stand within 2 hours of birth
The foal should successfully begin to nurse the mare's colostrum (first antibody-rich milk) within 2 hours of birth.
First urination should be observed by 12 hours after birth
First manure (meconium) should be passed by 8-12 hours after birth. The meconium is usually dark in color and firm, and should be followed by orange pasty manure.
*If the foal does not meet these time points, call your vet.

6. Be prepared with a stash of clean towels to dry your foal with after birth and have dilute betadine solution on hand to dip the foal's umbilicus for prevention of umbilical infection following birth.

7. Be prepared to collect and store the mare's placenta in a garbage bag or clean container for examination by your vet during the foal's first health check. If you notice large tears in the placenta or pieces of the placenta missing, call your vet immediately.

8. The foal's antibody level (IgG) will need to be measured 24 hours after birth. This test can be performed on the farm by your veterinarian. Foals with low IgG levels may require a plasma transfusion to provide adequate immunity.

9. Schedule a newborn foal exam the day after your foal is born to assess his/her health and IgG level. Your vet will look for obvious abnormalities that may require treatment, such as umbilical hernia, congenital eye abnormalities, contracted/lax tendons or a heart murmur.

10. Have a broad spectrum dewormer (ivermectin) on hand to be given to your mare the day after foaling because mares can pass the parasite Strongyloides westeri to their foals through lactation.

Please don't hesitate to contact Vermont Large Animal Clinic with any further questions regarding your pregnant mare or newborn foal.