LEPTOSPIROSIS IN ADULT HORSES
1) WHAT IS LEPTOSPIROSIS?
Leptospirosis is a bacterial disease caused by the spirochete organism Leptospira. In horses the disease is associated with abortion and a disease of the eye known as equine recurrent uveitis (also known by the laymen's term "moon blindness"). Leptospirosis is maintained in nature by asymptomatic (healthy) reservoir hosts, such as cows, dogs, opposums, rats and skunks. These reservoirs' shed the Leptospira bacteria in their urine, leading to contamination of their environment and transmission to other species such as horses. Risk factors for developing Leptospirosis in horses include exposure to wildlife, rodents and exposure to water or soil contaminated by the urine of a maintenance host. Older horses also appear to be at higher risk for developing disease. Horses become exposed to the Leptospira organism by ingestion (for example eating contaminated feed or drinking contaminated water) or by inhalation of the organism.
It is important to recognize that Leptospirosis is only one of several different causes of equine recurrent uveitis. Leptospirosis causes equine recurrent uveitis either through direct damage from presence within the eye, or a local immune response to the bacteria.
2) REGIONAL PERCENTAGE OF EQUINE POPULATION EXPOSED TO LEPTOSPIROSIS: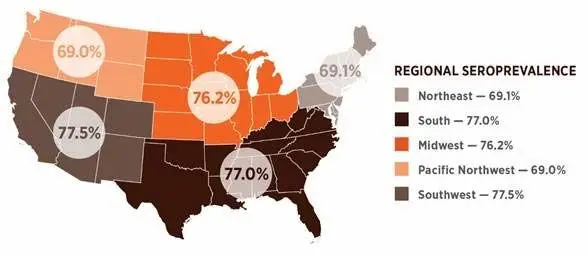 3) WHAT ARE THE CLINICAL SIGNS OF EQUINE RECURRENT UVEITIS?
ERU can occur in horses months to years after infection with Leptospirosis. Blood antibody titers will help your veterinarian determine how recently your horse was exposed to Leptospirosis. Horses that appear to be currently infected will be treated with antibiotics to kill the organism and to stop shedding of the organism in their urine. Clinical signs of ERU that a horse owner may notice include blinking, tearing, cloudiness of the surface of the eye or cloudiness within the eye, sudden loss of vision or blindness and rapid cataract development.
4) HOW IS THE INFECTION WITH LEPTOSPIROSIS IN HORSES PREVENTED?
Equine exposure to Leptospirosis can be prevented by limiting your horse's access to stagnant water and wildlife. A new vaccine has been developed and approved by the FDA in the last year for prevention of Leptospirosis in horses. The new available vaccine might help prevent the development of ERU secondary to Leptospirosis in your horse. This vaccine is made by Zoetis and is called LEPTO EQ INNOVATOR®.
For more information about the equine Leptospirosis vaccine and Leptospirosis in general please visit: https://www.zoetisus.com/products/horses/lepto‐eq‐...
5) IS LEPTOSPIROSIS CONTAGIOUS TO PEOPLE?
Leptospirosis is considered a zoonotic disease, meaning people can catch this disease from animals. In fact, Leptospirosis is the most widespread zoonotic disease in the world with recent increasing prevalence. The source if infection in people is usually direct or indirect contact with the urine from infected animals. In most human cases the disease is mild with no noticeable clinical signs, but 5‐10% of human patients may develop severe multisystemic disease.
Please feel free to contact VLAC with further questions regarding Leptospirosis and its
prevention in your horse.