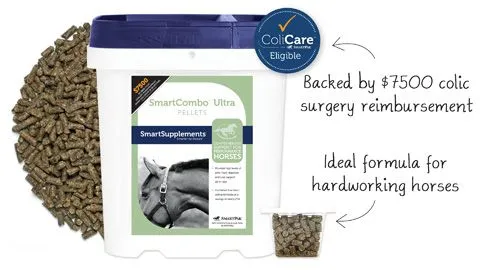 Colic is the leading cause of sickness and premature deaths in horses as well as the #1 emergency call here at VLAC. For some horses, surgical intervention is the only source of treatment, but for many owners the high financial cost is prohibitive. If your horse has minimal insurance, or is not insured at all, there is now another option.
SmartPak™ Equine has developed the ColiCare™ Wellness Program to provide up to $7500 in colic surgery reimbursement. The program is centered on the SmartDigest Ultra supplement, a daily supplement designed specifically to support the normal health and functioning of the digestive tract. The doctors at VLAC feel that this product is of high quality and could be beneficial to your horse's overall GI health. Like most programs there are certain requirements beyond feeding the SmartDigest Ultra supplement that need to be followed. Those requirements, directly from SmartPak, are listed below.
We have performed colic surgeries here at VLAC on horses enrolled in the program, and SmartPak has honored their financial commitment to the participants. If you are interested in enrolling your horse in this program, please contact us prior to your spring services appointments and we can perform all the necessary requirements for enrollment. All performed requirements will be documented in your horses' chart for easy record-keeping and submission to SmartPak. VLAC is also offering a discounted physical exam for any horse enrolled in the ColiCare program.
ColiCare Program Details
Eligibility:
Must reside in the United States
Weaned horses ages 5 months and older
Horse(s) under the direct care of a licensed veterinarian
Horses that have had a previous colic and/or abdominal surgery, experienced colic in the past 12 months, or have a history of chronic colic are not eligible
Program Requirements:
Year-round, daily administration of SmartDigest Ultra maintenance dose (30g) in SmartPaks
Annual physical exam from your veterinarian
Annual dental exam from your veterinarian
Annual vaccinations administered by a veterinarian
Annual participation in a veterinarian-directed deworming program that includes at least one annual fecal test and two annual deworming administrations
Please contact us at 802-893-6800 or [email protected] for more information regarding this program, or visit SmartPak's website at www.smartpakequine.com/ColiCare.
ColiCare™ Horse Owner FAQs
Q: What is SmartDigest Ultra and why are horses required to be on it to enroll in ColiCare?
A: SmartDigest Ultra is a daily supplement designed specifically to support the normal health and functioning of the digestive tract. SmartDigest Ultra is an outstanding choice to help manage the risk of digestive upset for any horse, but especially those under stress. Because we feel so good about the combination of SmartDigest Ultra and a veterinarian-directed wellness program, we back it with up to $7500 of colic surgery reimbursement (as long as your horse is enrolled in ColiCare and meets the Program Requirements).
Q: Do I have to feed a certain dose of SmartDigest Ultra? What if I have a pony or a very large horse?
A: All horses and ponies weighing 500 lbs or more must be fed a minimum of the maintenance dose of SmartDigest Ultra (30 g) or SmartCombo Ultra (120 g) in order to be eligible for the ColiCare Program and colic surgery reimbursement. Ponies and minis that weigh less than 500 lbs may be fed a half dose of SmartDigest Ultra (15 g) or SmartCombo Ultra (60 g) in SmartPaks and still be eligible to apply for ColiCare and colic surgery reimbursement.
Q: Who do I call if I have a question about enrolling in ColiCare?
A: The best way to contact SmartPak is by calling 1-800-461-8898. Our team of Supplement Experts would love to help answer all of your questions about enrolling in ColiCare.
Q: My horse gets SmartCombo™ Ultra in SmartPaks. Is he eligible for ColiCare?
A: Absolutely! SmartCombo Ultra contains all the active ingredients of SmartDigest Ultra. All horses and ponies over 500 lbs must receive at least the maintenance dose (120g), while all ponies and minis under 500 lbs may receive a half dose (60g) of SmartCombo Ultra in SmartPaks.
Q: Why aren't SmartGut and SmartGut Ultra included in the ColiCare program?
A: SmartGut and SmartGut Ultra are our comprehensive gastric health formulas that are designed specifically to help keep stomach tissues healthy. SmartDigest Ultra, and therefore SmartCombo Ultra, are the only supplements included in the ColiCare program because they are designed to support the health and balance of the horse's hindgut.
Q: Does my veterinarian have to provide dental care or can I have another professional do it?
A: If your Veterinarian offers dental care, perfect! We realize, however, that not every veterinarian offers dental care services. In these cases it is important that your veterinarian examines your horse's mouth, teeth, tongue, cheeks, gums, lips, and other structures of the mouth, and that any additional dental care recommended be performed by another competent professional.
Q: Can I purchase vaccines myself and give them to my horse as long as I keep the receipts?
A: No. Because it is important to have your veterinarian involved in the selection of appropriate vaccines for your individual horse, and because proper vaccine handling is critical to their effectiveness, we require that your veterinarian administer all of your horse's vaccinations.
Q: Do I have to buy dewormer from my vet?
A: No. We simply require that you participate in a veterinarian-directed parasite control program that includes at least one fecal test and two dewormings per year. You should work with your veterinarian to develop a deworming, fecal testing, and environmental management regimen that is individualized for your particular horse, his living situation and your climate. Please keep track of the dates your horse was dewormed, and when his fecal test was performed, as we will require these dates in the event of a claim*.
*When purchasing dewormer for your horse through VLAC, this information is already included on your medical record, making it convenient for submission in the event of a claim.
Q: How does ColiCare work if I have coverage through an equine insurance company?
A: In the event of an approved colic surgery claim, SmartPak will reimburse up to $7,500, independent of any insurance or additional reimbursement program associated with the horse.